Hi there!
I just love it when I'm stuck on an idea for a design, and a challenge pops up to get everything sorted.
I was thinking of an interesting way to case
Cornelia's
funky card at the
Muse card club
, when
Case this sketch
published their sketch yesterday. Thanks Julie!
And I had a PING like my friend Bev calls it. That moment when a design comes together !
I wanted to use paint (like Cornelia did). Found this pearly poster paint in a drawer, and the rest is history! I added texture by dabbing the panels with the paintbrush just before the paint was completely dry.
I didn't plan to use vellum for my sentiment, but the space left on the right side panel was too small, and it would mean an out of balance small sentiment if I wanted to squeeze it in there! The bonus of vellum is that it doesn't cover up whatever it is you want to show!
Another sentiment for you to use!
I will also enter the
Simon says stamp
anything goes
challenge.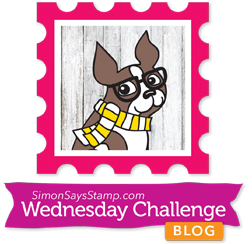 Thanks for visiting me today!