Hi there!
I was so surprised when I walked into our local stationary shop on Sunday, and found a whole new shelf of craft goodies. Mostly products of Martha Steward.
With the online stencilling classes going on I saw the most inspiring projects in blogland last week.
So... with some new MS goodies in my hand and inspiration from all of you out there... I designed my own stencil using my Silhouette software, and smashed on a good amount of
white texture effect
which I colored using a hot pink acrylic paint.
I added a gold WITH LOVE sentiment ,also cut with my silhouette using the font 'bittersweet'.
I enjoyed the experiment... something different than my usual
thing ;)
Challenge inspiration:
Case study
The first time I saw this card by
Donna
it really took my breath away... had to use this as inspiration.
Addicted to cas
Simon says stamp monday challenge
~ love notes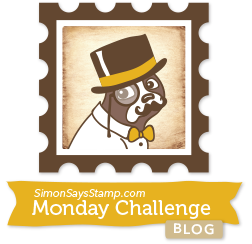 Thanks for looking!